THE END IS HERE!!!!
After three years, it is time to close the curtain and say goodnight one last time.

If you have been to every show we've done,

If you have only been to one,

or If you ain't never been to none,

We invite you to join us for the biggest Freak Show ever as we celebrate our finale with a big bang!!!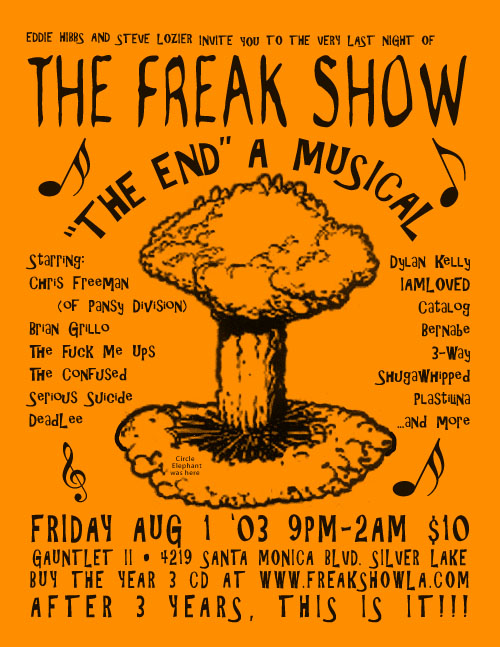 GET, THE FREAK SHOW YEAR THREE CD!!
We will be releasing a year three CD, however unlike previous years we will only be doing a very small run. If you would like to guarantee yourself a CD, please e-mail us to pre-order a copy. The price for pre-orders is only .00 and you will get into "The Freak Show" for half-price. For more info, e-mail us at:
freakshowinfo@yahoo.com

or check out the GET THE CD page listed above.
AUGUST 1, 2003
"THE END" A MUSICAL

Come check out this original musical extravaganza, as the above listed bands join together to perform this celebration of the meaning of... the end.

P.S. Warning we will be blowing the place up at the end of the night.
THIS MANY PEOPLE HAVE BEEN HERE







more and more everyday!
WHAT IS THE FREAK SHOW??
"The Freak Show" is a monthly event styled after the traveling sideshows of yesteryear. It is part night club, part nouveaux-cabaret, and part punk rock all wrapped together into a kaleidoscopic carnival. Each month features a different theme and a variety of live music and entertainment. A bedlam, both fun and friendly, we welcome all kinds to join our circus as participant or spectator.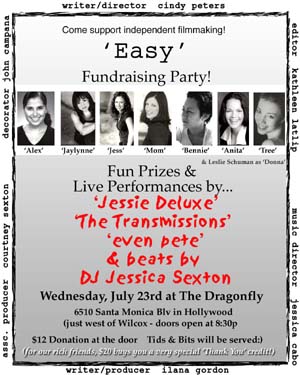 Thanks for the Support!!!
Steve Lozier and Eddie Hibbs
freakshowinfo@yahoo.com